Elias James Lascelle
Sergeant
Company B
49th Pennsylvania Volunteers
Submitted by Joe Gordon
(Graphic Enhancements courtesy of W. K. Howser)
The following was written on the back of the tintype:
4th. Corps Army of the Potomac
1st. Brigade
5th. Wis
6th. Maine
43rd. N.Y.
48th. Pa

From Nov 5th. 61 to Jan 29th. 63

Sargt. E. J. Lascelle
Co. B. 49th. Pa Volunteers
Jan 1st. 1862

Col. Irwin Hancock's Brigade
Brig-Gen W.F. Smiths Division
Arlington Heights
Virginia
U.S.A.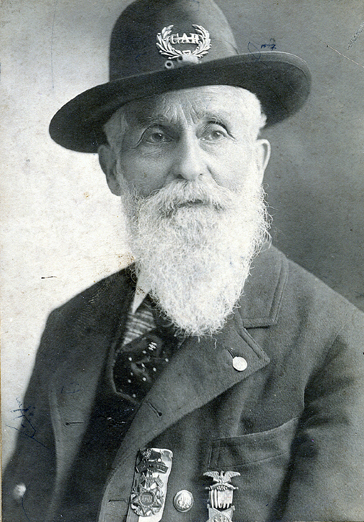 This member of the GAR has not identified, perhaps it is Sergeant Lascelle
Direct questions or comments to pacivilwar@pa-roots.net
© Alice J. Gayley, all rights reserved
Web Space provided by