Created: Thursday, 26 May 2011
Last Updated: Wednesday, 26 February 2014
Written by Nathan Zipfel
Who was he? Reflections on Memorial Day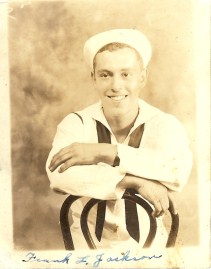 Monday May 30'th is Memorial Day. Growing up we still called it Decoration Day. For many people it's just a long weekend, an extra day off from work with pay. We often went to visit a cemetery on that day.

Memorial Day began after the Civil War with the first known observance in 1866 in Waterloo New York. It was a day to visit the cemetery of the Civil War dead and clean and decorate their graves. The tradition caught on and spread across the nation. In towns and cities across our country people will gather at war memorials and reflect and remember the men and women who have paid the ultimate sacrifice for our country.
As I was thinking about Memorial Day this year I thought about the cemetery where most of my ancestors and related families are buried in. There are many veterans of wars buried there. There is one tombstone in particular that has always caused me to pause and wonder exactly who he was. His name was Frank Lester Jackson and he was 18 years old, just 13 days shy of his 19th birthday when he died. He was my mom's first cousin and just two years younger than her.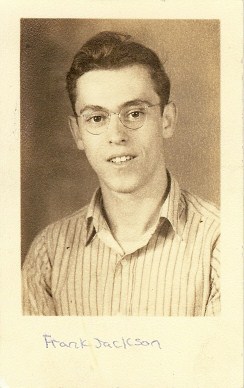 My mom told me that Frank snuck off from home and went to Erie and enlisted in the U.S. Navy. When World War II broke out and particularly after the attack on Pearl Harbor, Frank wanted to join the Navy and serve his country. He was of course too young, he had just turned 17 a few weeks before. The Navy didn't discover his true age until after he had already processed through training. His father signed his consent after the fact giving his permission for Frank to be in the Navy.

Frank was trained on Radar equipment and rose to the rank of Radarman 3rd Class. On 30 August 1943 he was assigned aboard the U.S.S. Luce, a Fletcher-class destroyer. On 4 May 1945 while on patrol in support of the Battle of Okinawa the Luce was attacked by 2 kamikaze Japanese airplanes. The Luce sank taking 126 members of the crew with her to the bottom of the ocean.
At the cemetery the family placed a tombstone, it simply reads "In Memory Frank L Jackson 1926-1945 S/# RD. M., U.S.S. Luce Lost in Pacific"
Who was
Frank? He was the youngest son of Morrie and Maggie Jackson. He had two older brothers (Harry and Eugene) and three older sisters (Violet, Alice and Martha). He hadn't lived long enough to make much of a difference in the world. He hadn't even graduated High School when he joined the Navy. He didn't live long enough to leave much biographical information. What I do know about him was that he was loved by his family and he loved his family and his country. He left behind many friends and family members to morn his death.
This Memorial Day won't you take a moment out of the day and remember the Frank's and Ramon's and Jamaal's and Debbie's that have paid the ultimate price in service to our nation? If you have a chance, visit a local cemetery and pause at a Veteran's grave and offer a word of thanks to them.

Nathan
President, PA-Roots.com